Kanters introduces Intesti-Prime®
In the Netherlands, on average 12.5% of calves die in the period from birth to 14 days of age. Diarrhea is the main cause of death (56%) for young calves up to weaning age. This is why Kanters introduces Intesti-Prime. Sometimes diarrhoea is caused by feeding errors. But usually one or a combination of four infectious organisms is the cause. Namely the bacteria E. coli, rota and coronaviruses and the single celled parasite Cryptosporidium parvum. Cryptosporidiosis has been increasingly reported as a cause of diarrhoea in recent years and usually causes diarrhoea symptoms around the seventh to fifteenth day of life. Cryptosporidiosis often occurs after – or in combination with – a Rota infection; apart from the welfare aspect and the possible financial loss of a calf, this results in a rearing delay that is often overlooked. It may well be that you can only inseminate an ex-diarrhoea calf two months later than normal. This costs €3 per day in extra rearing costs. At 60 days, you are talking about € 180, – per animal!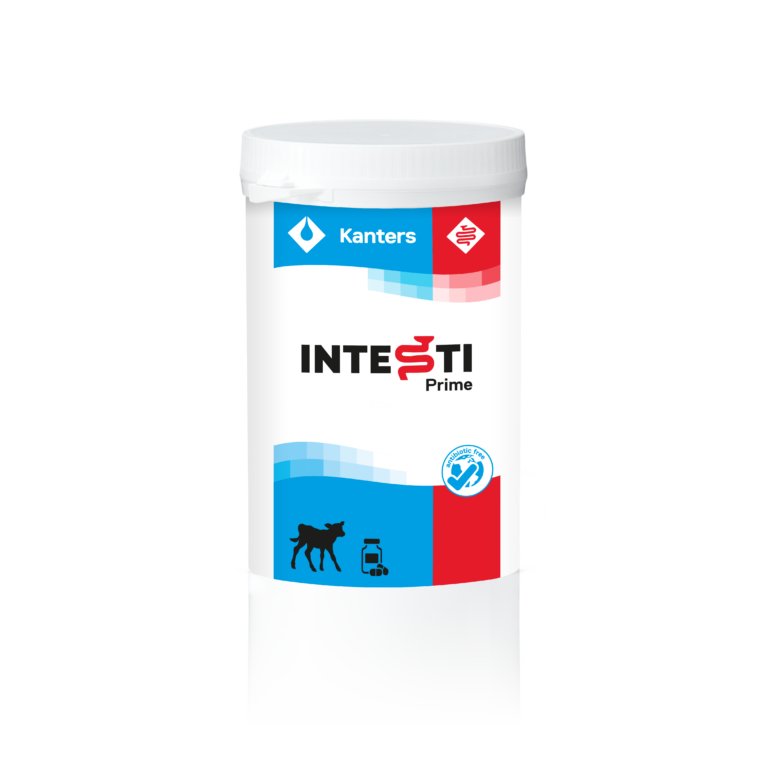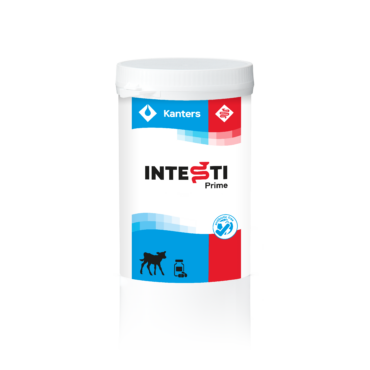 Unfortunately, antibiotics have little effect on calf diarrhea. Antibiotics do nothing against viruses (rota and corona) and little or nothing against parasites (cryptosporidium). Bacteria such as E-coli and salmonella are sensitive to antibiotics. In short, it usually comes down to the calf itself! Does it have a properly functioning immune system? Is it vital?
How can we help the calf?
Hygiene:
In practice, we see beautiful large pens with straw in which cows calve easily. Unfortunately, that lame cow has also been there for a while. Or that slob who needs extra attention. As a result, the result of kneeling down with a calving cow is usually two wet knees. When the calf is born, it has the same experience. Divide that pen in two! Make sure there is a full dry bed of straw. Remove manure immediately. This helps prevent infection immediately after birth. Of course, this is easy to write down. Practice is often more complicated, but it does help!
Then we are not there yet. Be patient! Don't use that cattle saviour straight away, it just becomes a cow rapist. Cows can often do it very well themselves. For cow and calf, calving is a pretty intense stressful moment. Do not make it worse.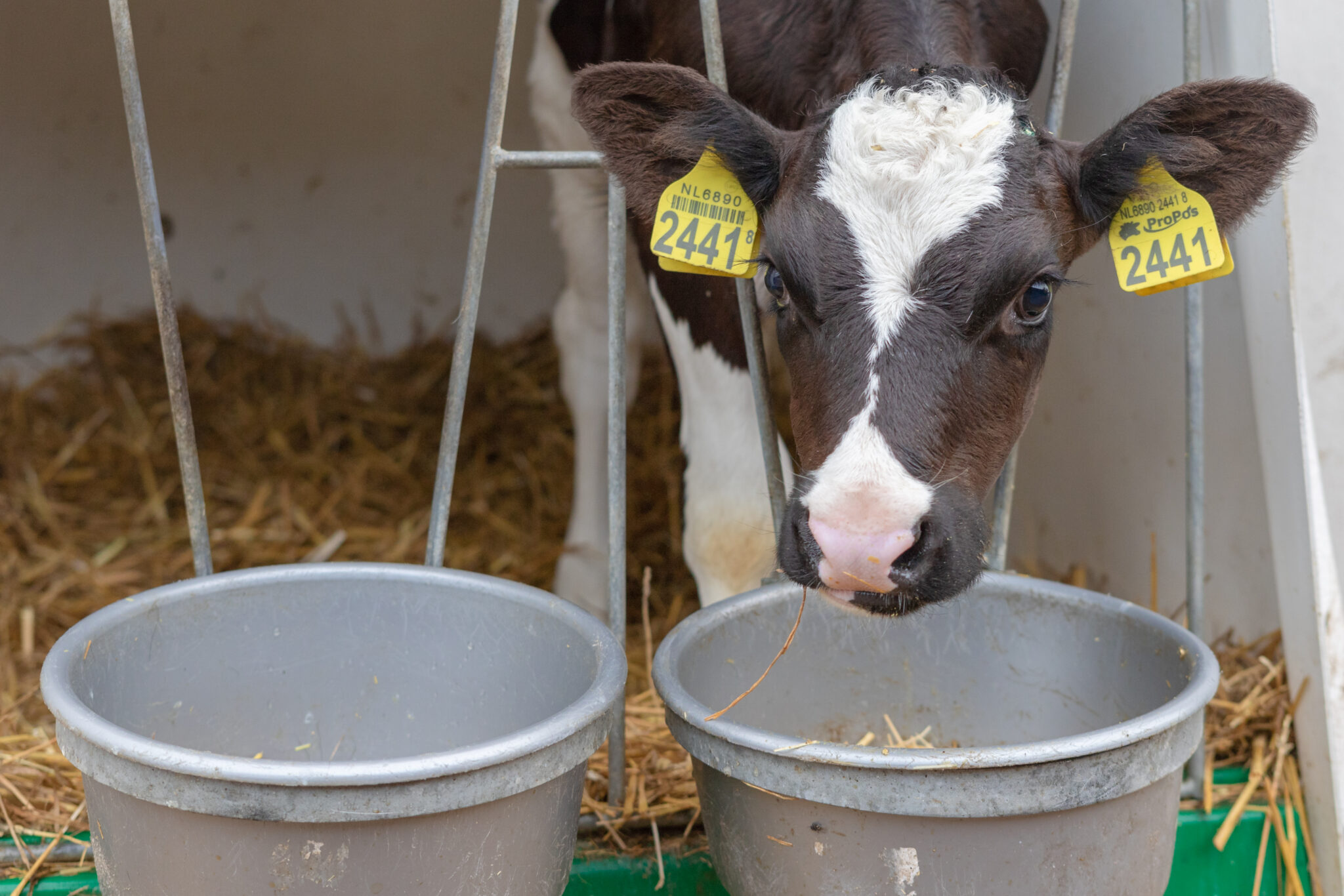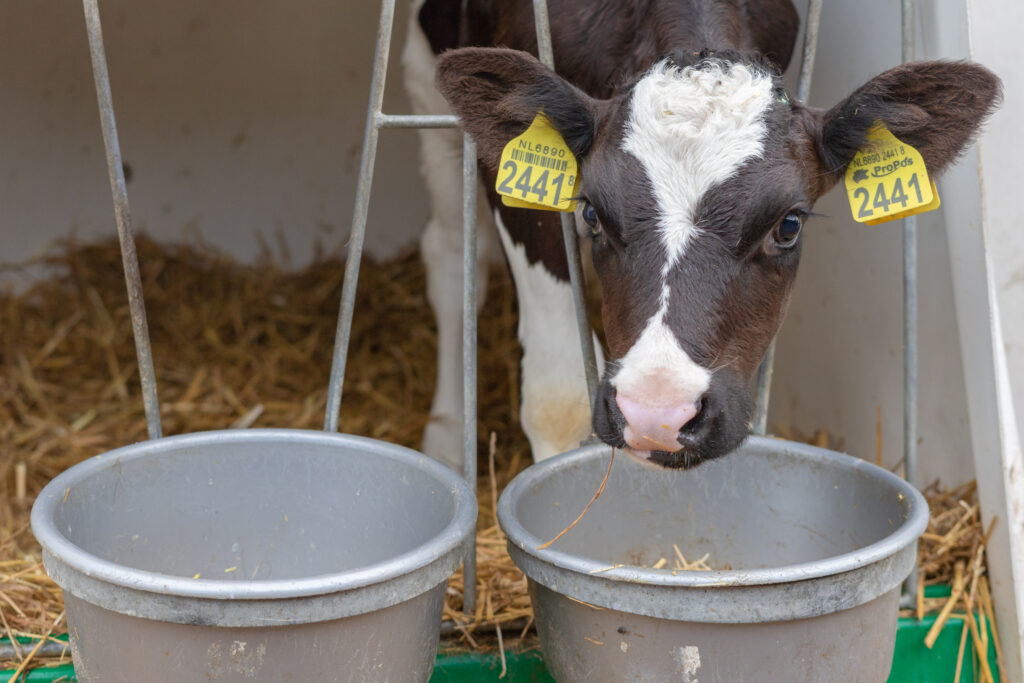 Support of the resistance with Intesti-Prime
The Intesti-Prime® pill from Kanters is a feed supplement composed of natural raw materials that supports the calf's immune response to the causes of diarrhea. Losses of moisture and nutrients will be reduced. It is a slow release pill. The active components of the pill are gradually released into the calf's gastrointestinal tract. This makes Intesti-Prime active in the gastrointestinal tract for a longer period of time and more effective. If you get many calves suffering from diarrhea, it is wise to support the immune system preventively. If the problem is E-coli, start on day 2 and give one pill per day for four consecutive days. When the problems occur around the end of the first week, start on day 5. If diarrhea occurs only occasionally, give the calf 1 pill and 6L of electrolyte mix immediately, then milk again and – 12 hours after the first pill – a second one. Finally, give another 2 pills, 1 each after 24 hours. The pill has a small size and can easily be administered orally via a pill dispenser.